Chapter 7

Foekje

—

A Pastel World on a Plastic Planet
From the minute you set foot in Foekje Fleurs's home, you immediately see that her work intricately weaves into her everyday life. The self-proclaimed 'concept maker' creates functional, yet thought-provoking objects. While the playful colour palette in her house's interior artfully mirrors her delightful range of products, the thriving vegetation tracing the border of her property reflects her personal connection to our planet. On a mission to combat plastic waste and motivated to find creative ways to inspire people to alter their habitual consumption, Foekje's Bottle Vases and Bubble Buddies shine a spotlight on themes close to her heart.



Foekje and her husband built their home in Leonidas, a small eco-community just east of Rotterdam's centre. A short walk through the car-free, unusual-looking neighbourhood brought us right to her doorstep. No doorbell in sight, we made our way around to the back of the house where we found ourselves standing in front of a self-constructed chicken coup, the birds happily clucking away and going about their business. As we approached, Foekje waved through the glass door, slipped into her garden shoes, and came outside to greet us. After giving us time to meet her family of hens and take some snapshots of her studio, Foekje invited us upstairs to her light-flooded loft for stroopwafels and tea. Her one-of-a-kind pastel décor alongside a lush plant collection gave the living room a unique museum-like feel.

Step inside Foekje's world and learn about the rickety road to her happy home, how she places her trust in consumption, and her newfound fascination for poultry.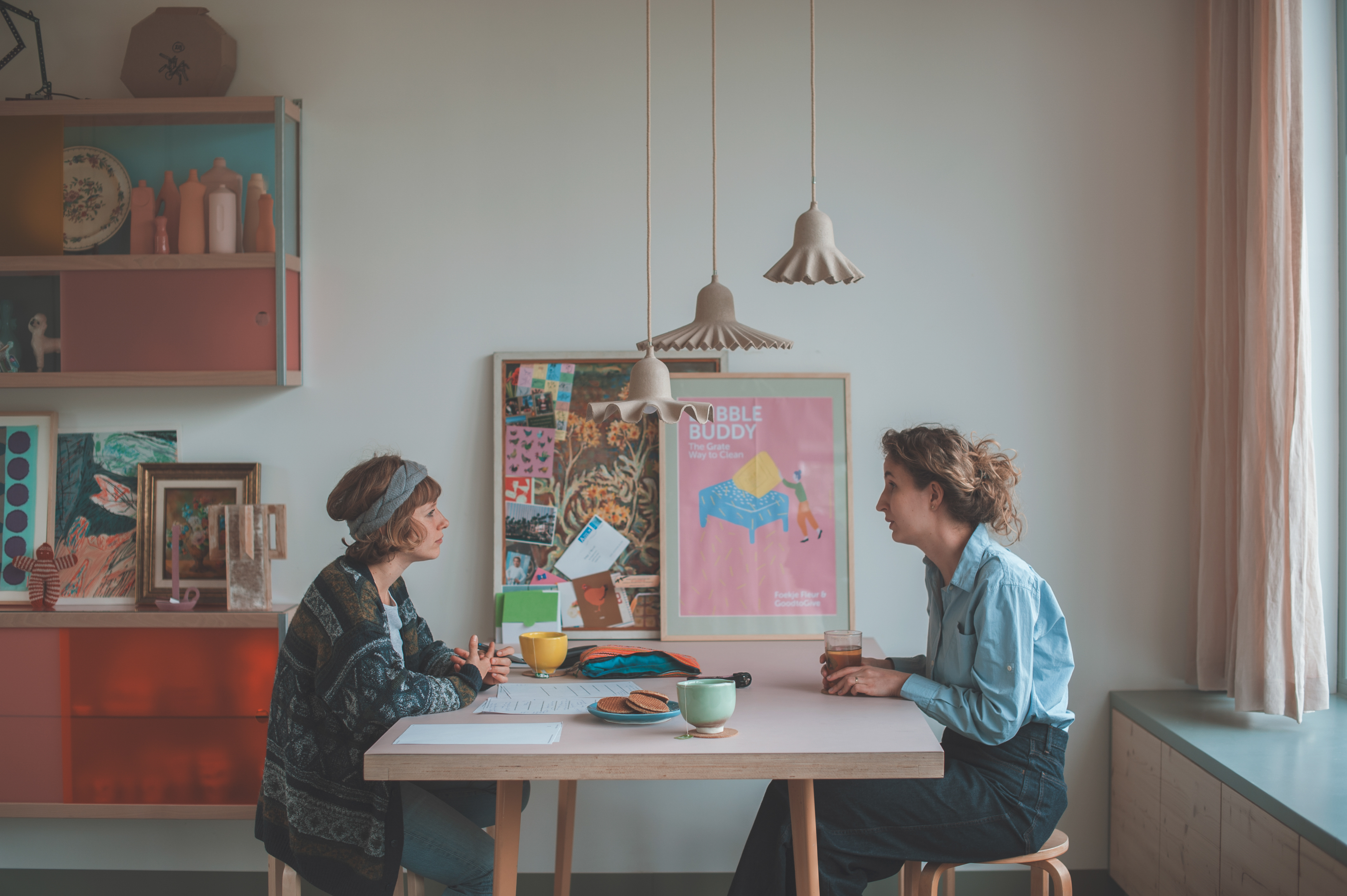 Describe a typical day in your life.
Well, my current schedule is very different compared to my usual one because I recently had surgery, so in the afternoons I'm mostly just sleeping. Usually, we wake up around 7:30 a.m. and eat breakfast. Then my intern comes over, and we spend the day working; she's at her desk, and I'm at mine. We try to work on everything simultaneously, meaning a little bit of design, then some sales, and then we go back and forth like that throughout the day. In the evenings, my husband Marcel and I prepare dinner and eat. Then we usually have another activity planned, like gardening or visiting people. A lot of the time, people also come over for dinner. It's a really great house to have guests over, and it will be even better when we have the terrace on the roof.
As a concept maker, your work strikes up conversations on topics such as waste and overconsumption. What are you doing in your everyday life to combat these issues?

I think that consumption is the most important voice that people have when it comes to instigating change. Of course, you can vote for change, but I also see that people around me are placing less and less trust in politics, and more trust in consumption. I try not to purchase from companies that I don't trust or that don't share the same values. So that's one way I try to make a difference. Another way Marcel and I try to reduce our impact is by purchasing as much as we can second-hand. We go on Marktplaats, which is kind of like the Dutch eBay, for everything: clothes, furniture, even IKEA furniture. And then we also try to make the right choices when it comes to the things we eat. We try to grow as much as possible ourselves.
Looking at the narrow piece of land around your house, it's incredible to see how much you are doing. You seem to have done a lot of careful planning to optimise the minimal space available to you.

Yeah, you really can do a lot with very little. Just by doing it, you start thinking about what you have and what you need. You also value the things you buy in stores more. Last year I was already amazed—we only had about half the plot we have now, but we were already growing so much of our food from it. Even when we went on holiday in early October, we still had things we could harvest from the garden. At first, we weren't sure what to do with it. We knew that if we left it, it would probably be gone by the time we got back. So for the first ten days of our holidays, we didn't do any grocery shopping—we were eating from our garden while we were in Sweden.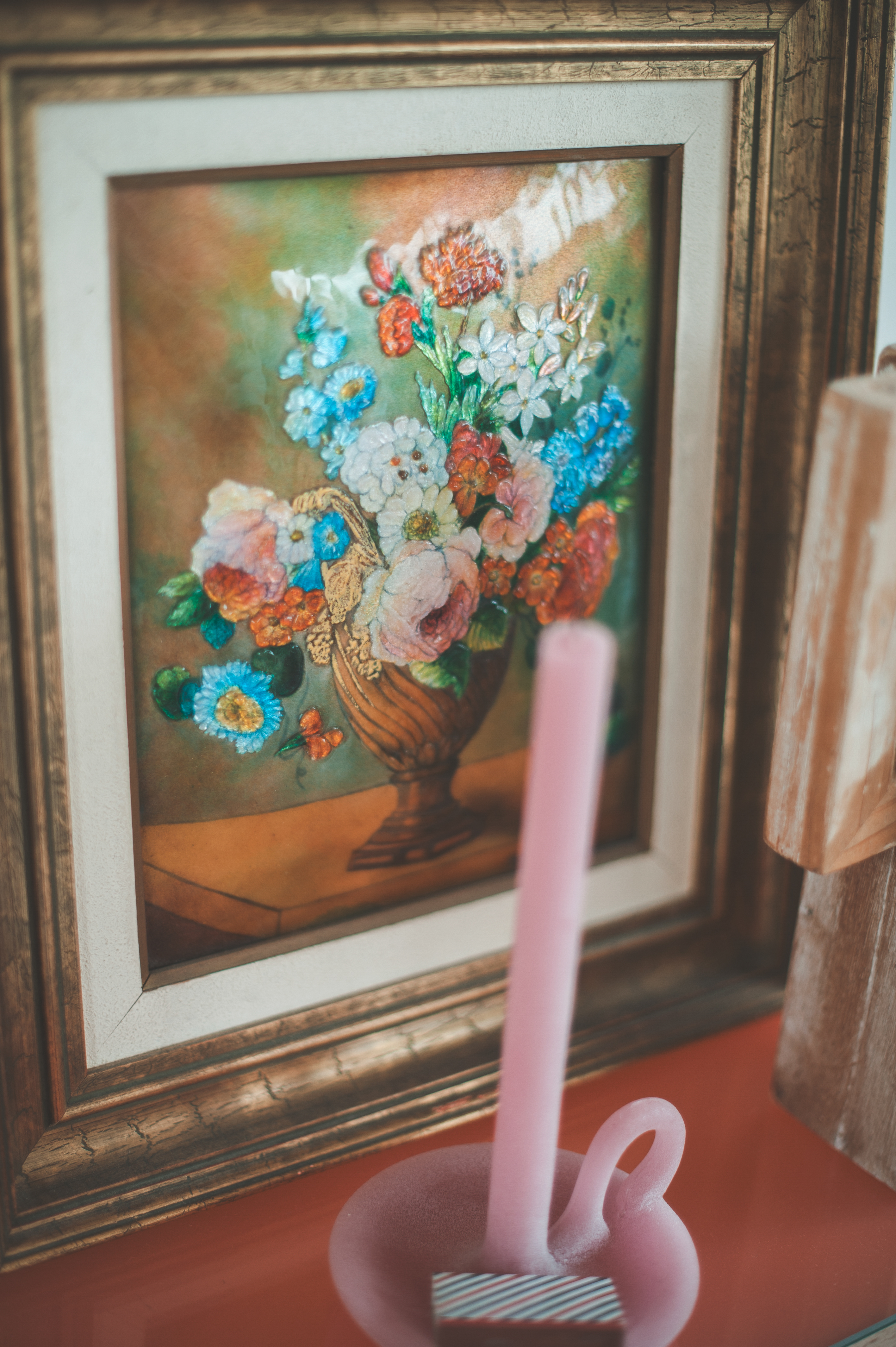 So what is the story behind your beautiful home?
Marcel and I had been thinking about buying a house for a long time. We had been looking at this housing website called Funda, but we didn't really find something that suited our needs. Everything that I liked we would have had to rebuild, and he didn't feel much for that. I had also seen this project, but it was way too expensive for us. Two years later we saw it again, and they had made these calculations—later it would turn out that they had been done by an intern and were totally inaccurate—but, according to these calculations, we could afford to buy this house. We felt like it was totally up our alley because the project focused on the construction of eco-homes. The plots were expensive, but not as expensive as you'd expect at the centre of Rotterdam because they're encouraging people to buy these types of homes.
We decided to go for it, but it turned out the project was really popular. The second phase, our phase, was 'who comes first buys first', so we realised we stood a chance, we just had to be FIRST. And then all these rumours started circulating that people were going to camp in front of the office on the day when the sales opened to be there first. At the time, it was already common in Amsterdam that people would camp outside for months just to get a piece of land, but not in Rotterdam. We really wanted this plot, so the Friday before the sales opened, I was talking to the broker, and gave him just a little bit too much information and realised he might have a nephew or someone who wanted the same plot. I got really worried because we could only afford this plot or the one next to it. So when I told Marcel what I had done he said: "Okay, you have to go camping NOW!" So I just went and sat on the doorstep at the broker's and then we spent the weekend there. Mind you, this was early March, so it was still freezing, but Marcel came with a tent and we had a lot of fun. So that's how we got the plot.
Then we started designing and getting quotes from contractors, and that is when we found out that the calculations we had seen before were completely inaccurate; they were like 200K under what it would cost to build something. We didn't know what to do because we wanted to build a house, so the only solution was to do most of it ourselves. We had the contractor do the basic construction, but then we did all the walls, the electricity and everything else. A year later, meaning last year, we did the exterior. So for the first year, the interior was semi-finished, but the exterior was just foil. All in all, it took about three years until we actually moved in.
You are a self-proclaimed 'chicken lover'. Tell me about your obsession with these quirky birds.
I have to admit, while Marcel enjoys birdwatching, I was never really into birds until we got chickens. We were mostly vegan, but then we figured that if we had our own chickens and could take good care of them, we'd be okay with eating eggs. So we tried it and it turned out that I was actually the one who liked them more.
At first, I was just interested in chickens. Now that I am beginning to understand their behaviour—how they think, how they feel—I am also more interested in other birds. It's also just really fun to wake up in the morning and see them there. We've had chickens that would call for us, which was really cute. Others are really into hugging. They all have their own intelligence and ways of doing things; their personalities are quite different from one another. It's a great way to have pets. I like cats and dogs too, but I especially like that our chickens get to live life outdoors. It's almost like they are on their own. In a way, they could survive without us, but we like to help them.
Who has supported you most in your endeavours over the past decade?

Probably my husband, Marcel. He's been very supportive, always helping me out with product videos and photos and that kind of thing. He's also just really kind. On the business front, I don't really have a partner, but Middle Kingdom has definitely always been good to me. They've given me really great opportunities, and it's been lots of fun working with them, so I'm really thankful for that as well. And then, of course, my parents, they are also supportive in their own way.
Turning back to your work: with your bottle series, you are calling attention to the pollution of waters the world over. How would you describe your relationship with water?

I am a very guilty shower taker. I like taking showers, but whenever I'm in the shower, I feel guilty about the amount of water that I'm using. As a result, we constructed our house so that we can build a water recycling unit behind this wall to make use of the water coming from the roof.
That said, I'm always happy to read that the best way to save water is by not eating meat. We haven't done that in...forever...so that makes me feel a little less guilty about my showers. Generally speaking, at home we try to be very conscious of our water use. I think it's really going to be a problem in the future. I find the way we have water here in Rotterdam extremely indulgent because the quality of our drinking water here is better than any spa or fountain.
What do you do when you're not busy working for your brand?

I have to admit: work takes up most of my time. Of course, Marcel and I also spend a lot of time with friends and family. I also like sewing and shopping online for second-hand clothing, but I probably shouldn't be buying as much as I do. Sometimes we'll watch a TV series, just like anyone else, I suppose. We're both crafty and like working on the house. There's always something that needs to be done. Never a dull moment really.
Thank you, Foekje.